A hotel and restaurant in Savoie on the shores of Lake Aiguebelette
The Region of Lake Aiguebelette is situated between the mountains and lakes of Savoie Mont Blanc. There is a whole range of outdoor activities on offer, including canyoning, kayaking, cycling, rowing and of course, hiking. 
Tourism at the Novalaise Plage hotel and restaurant - Feel at one with nature
The area of Lake Aiguebelette was designated a regional nature reserve of the Auvergne-Rhône-Alpes region in 2015. This certification helps to maintain and protect this emerald jewel. As France's third largest natural lake, it is considered to be an area of eco-tourism.
You are unlikely to be bothered by noise as motorboats are not allowed on the lake in order to preserve the silence and wildlife. It is one of Savoie's most important centres of biodiversity. 
The lake house, which acts of a Tourist Office, is just 1km away from the Novalaise Plage Hotel and Les Roselières restaurant.
You can set off on hiking trails by following the marked paths that start just 1km from Novalaise Plage Hotel.
Lake Aiguebelette has several supervised beaches in summer. 
Guests of Novalaise Plage Hotel, on the shores of Lake Aiguebelette in Novalaise, Savoie (73), can enjoy the hotel's private beach.
Amateur fishing is allowed here.
Vertes Sensations, a partner organisation of Novalaise Plage Hotel, is an agency specialised in outdoor sports centred in and around Lake Aiguebelette. Located at just 800 metres from Novalaise Plage Hotel and Les Roselières restaurant, it is the perfect place to practise sports such as multi-slide, cycling or mountain biking, via ferrata, climbing, paragliding, etc. Take a look at the Vertes Sensations website.
It is possible, by taking off from the top of the Massif de l'Epine, to land a paraglider close to Lake Aiguebelette. See our partner Paragliding Aiguebelette website.    
There is also a rowing centre on the lakeside, where high-level teams come to train. See the Aiguebelette Rowing website.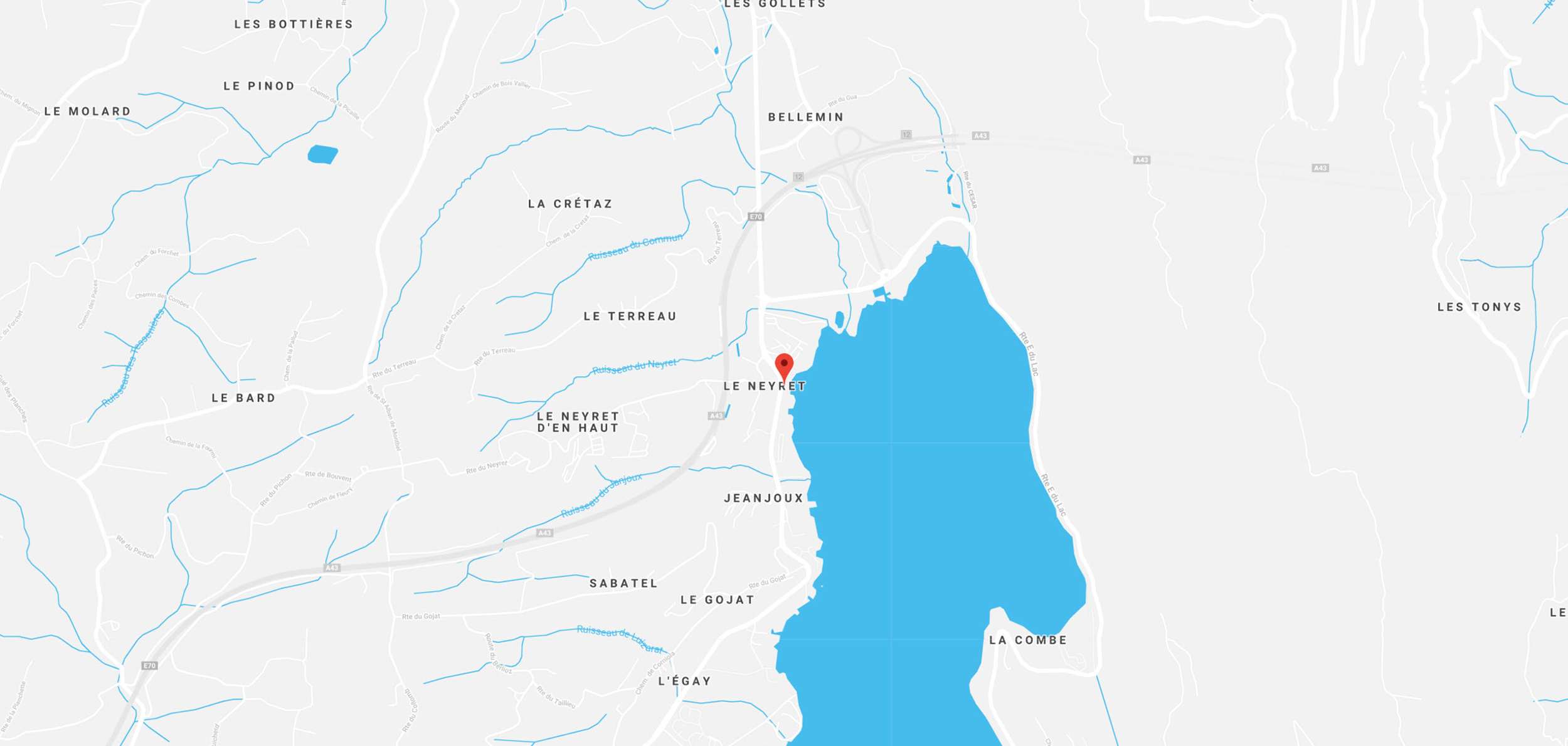 Getting to Novalaise Plage Hotel - hotel, restaurant and seminar centre
Take the A43 Lyon-Chambéry and come off at exit 12 Lac d'Aiguebelette.
After the peage, turn right at the roundabout in the direction of Novalaise-Lac.
300 metres further on, turn left at the roundabout. You will then very quickly see Novalaise Plage Hotel on your left.
 
For more information: www.viamichelin.com
GPS coordinates: lat: 45.5662618 / long: 5.7944333
Lépin-le-lac Train Station at 5km, Chambéry Train Station at 16km, Lyon Part-Dieu Train Station at 86km.
Airports of Chambéry-Aix-les-Bains at 16km, Lyon Saint Exupéry at 74km, Genève at 92km.